Right from our very first day at ICF, we have been gaining experiences in the fashion world and this July got us one very exciting one.
An opportunity to work at the Fascino Kids Fashion Show, an exclusive Fashion Week for children between 3-14 years of age, with a series of interactive workshops leading the participating children with sessions on Personal Hygiene, Etiquettes, Personality Grooming putting forward a holistic, confident personalities on the ramp.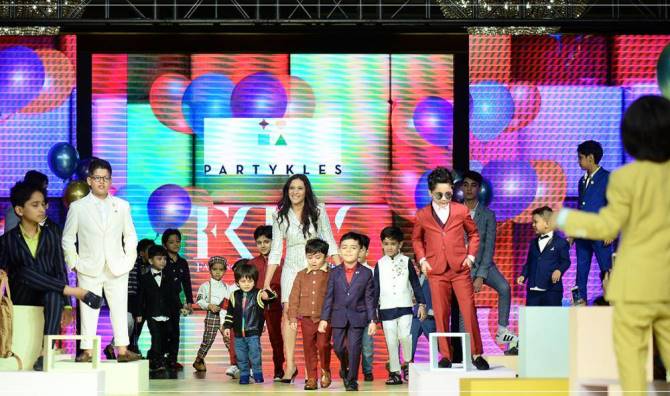 This was an exciting opportunity for me and my other enthusiastic lot of friends since none of us had ever had the experience of handling these little bundles of energies. Glad we all enrolled ourselves for this and were prepared to take this new challenge head-on.
The show was scheduled from 25th-27th of July 2019 and was held at Eros International, Nehru Place.
We were involved from day one….from the trials to training and practice days for the child models and handling schedules for all the participating designers.
Time management was one of the major factors that we needed to learn and report to work an hour early than the kids' schedule since all the arrangements for the day were to be organized and put in place to avoid any delay or glitch during the sessions.
We were about to be hit with a real challenge of handling small kids throughout the day while helping the Organizers. The kids started to pour in and some of them came in "like a wrecking ball". Some of the kids were not ready to leave their parents at all and kept wailing and crying. That was truly a challenge, to get them separated from their mothers, get them changed and make them practice along with everyone else. But we were not there to give up easily. All through the days this cycle continued, designer after designer, kid after kid, and we would generally wrap up the day around at about 9 in the night right after a short meeting with our team heads….just to repeat the whole process every day for the next couple of days; but the second day was less chaotic, thanks to our experiences gained the day before.
Then came the big day, the actual show on Saturday the 27th of July, 2019. We all reported at the venue sharp at 8 am, dressed and ready to work in our Fascino Kids Fashion Show custom t-shirts, that gave us the sense of responsibility to shoulder the brand we were working for.
We began readying up the first lot of kids for our first scheduled show at 11:00 a.m., which was actually delayed by an hour due to technical issues, but hiccups like this are common in such fashion events. With each show, our work gradually got easier, and we had a smooth functioning through the fashion shows……. till the finale show……That was when chaos broke. We ran out of hands to help backstage, and 3 people barely kept the kids in control, but with immense help from one of the team heads, we were able to deliver an amazing finale of the day that was widely appreciated and adored.
The after-party to celebrate the success of the show had us all as a team had us all danced and celebrate the successful line of shows the whole day, and we all retired to our homes in groups and pieces, to finally rest our feet which had been working on and on through the week.
Even though the whole experience was tiring and we ran out of energy to function by the time we got to leave, it was all worth it when we received our certifications when we rejoined college.
We were also awarded a beaming trophy to represent all the hard work we all collectively put in, and it was truly an amazing moment to be able to hold it in our hands.
The trophy now rests in the office of our Chief Mentor, Ms. Jaivani Bajaj's office, as a beautiful memory of something so demanding and challenging yet so rewarding and full of knowledge.
This was an experience gained, that will forever be with us all.
Abhilasha Sharma- BBA FE 2018
Please follow and like us: