The Delhi Times Fashion Week (DTFW) had a glittering start in the capital on Friday. The three-day fashion extravaganza, powered by Danj Entertainment, had an impressive line-up of designers from the fashion industry showcasing their finest collections. Day 1 was all about festive fashion and had known names like Rina Dhaka, Anupamaa Dayal, Nikhita Tandon and designer duo Anjalee and Arjun Kapoor headlining the event, which is being held at Roseate House, Aerocity. The event began on Friday, 20th September and ended till the 22nd of September. The event also showcased collections by Madame, Cantabil, Charu Parashar, Marks & Spencers etc.
It was an initiative by the Times group and had many other sponsors which include Toni & Guy, Delhi Times, Transworld, Danj and many more. We, as design students got an opportunity to visit the shows on different days in different groups.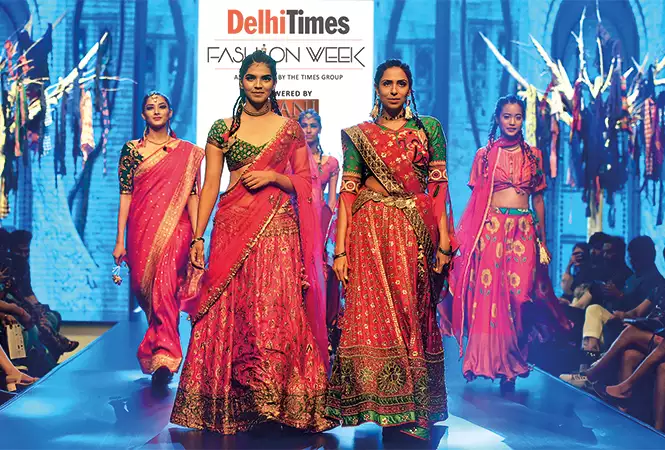 We went to the first show on the 20th of September with a group of 10 fellow classmates. While waiting long for the show to start, we saw celebrities like Harsh Khullar and Bandhana Sondhi. As we entered the hall, we got all the fashion vibes as we saw the ramp, dim-lit and all lights, camera, actions ready! We took our allotted seats and in no time, the show started. It was Anupama Dayal's "Banjaran" collection that was being showcased. The garments were all very bright and colourful yet not blazing to the eye. They were in Indian silhouettes and comprised mostly of lehenga-choli with dupatta and suit-salwar. There was a smart use of fabric and fabrics of different prints were used in contrast-different fabric print and colour for the shirt, sleeve, skirt and dupatta. Gota work was quite prominent in the hemlines of the skirt and dupatta in many outfits. Tassels were hanging around in the dupattas and the blouses along with the braided hair of the models. This was a catchy part of the show as all the models were styled in two braids with colourful tassels and ribbons hanging around their hair to give the banjara look. Models were also seen in nicely draped sarees in red and green with a dangling belt around the waist. Overall, the collection was quite lovely and very traditional and festive. It gives playful and quirky vibes-Indian yet not traditional. One unique and overlooked element of the show was the footwear-all models were wearing same footwears i.e beige jootis with tassels handing round them!
The show ended with the entry of Anupama Dayal on the ramp and all her models following her and dancing around. They all gathered at the front and bent down on their knees, dancing depicting the joy and merry that banjarans have. Anupama wore a yellow saree with a red blouse, almost matching her collection.
We absolutely loved the collection and the show itself! We had many takeaways and learnings from the show and are looking forward for more such opportunities.
Tanisha
BBA FE 2019 -2022
Please follow and like us: