The orientation for BBA batch 2018-21 and MBA batch 2018-20 was quite an experience, A-listers from the fashion and business industry were there as guest speakers. It began with the ceremonial welcome of the guests by Mr. Vinod Kaul and Ms. Jaivani Bajaj, remembrance of Ma Saraswati, Lighting of the lamp and prayer sung by students of BBA batch sem-1st. Prof. Gulbash Duggal introduced the guests(Mr. Ashish Soni, Mr. Hemant Sagar, Ms. Rachna and Mr. Sam Baisla) and other faculty members and spoke about academics at ICF. IC- connect, our e-magazine was launched by Mr. K.K. Bajaj. The magazine provides information about both the fashion and finance world. IC-connect will give students a chance to showcase and share their knowledge and experiences at ICF. Post this, a discussion was there on "what is more important to your organization mission, core values or vision?", Mr. Vinod Kaul, a seasoned professional with over thirty years of experience in the retail, fashion and publishing industries at senior positions, and also headed the FDCI as an executive director, started the discussion about the important things and values we need in developing our organizations and the things we have to keep in mind to have a successful organization.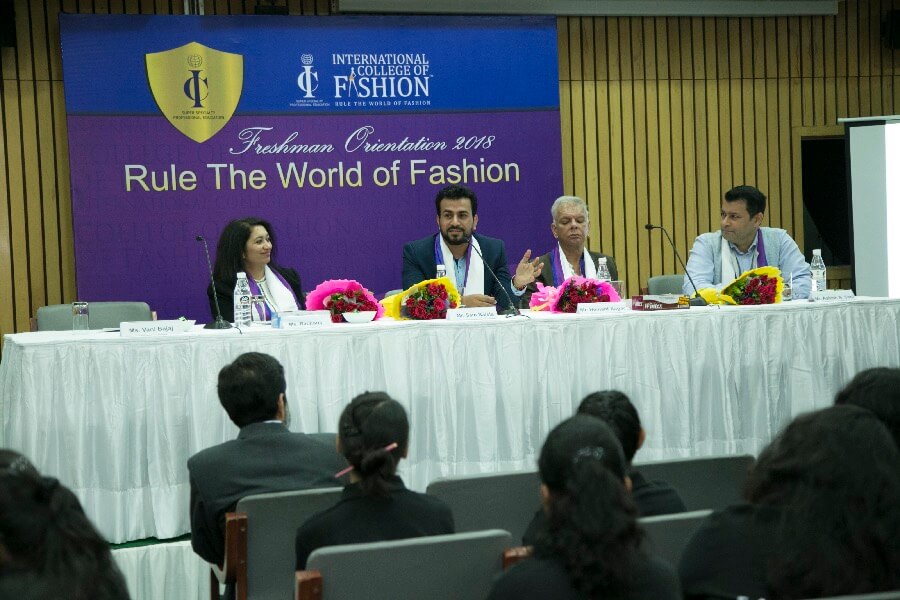 Mr. Ashish Soni launched his label in 1991, followed by his own independent design studio Ikos Designs in 1993. He became the first Indian designer to hold a solo showing in Delhi. He was also the first designer to be invited to hold a runway show at Olympus fashion week, New York and, he was one of the first Indian designers to retail through Selfridges.
Mr. Hemant Sagar was born to an Indian Father and a German Mother (that explains his good looks). He went on to study design and dressmaking in Germany as a teenager. He started his career in fashion as an apprentice in Germany and then went to Paris.
Ms. Rachna is a proactive professional with a refined sense of aesthetics and perfectionism having two decades plus of experience in Luxury and Lifestyle Retail at senior management positions.
Mr. Sam Baisla is the founder & CEO of NEXEL. He's LinkedIn influence strategist helping entrepreneurs, small businesses and startups in social branding, leadership and sales. He is also the co-founder of Viaa soul an organization, dedicated to bringing world culture together. He has trained and inspired a hundred thousand plus young leaders and loves to share his experience and ideas on leadership, entrepreneurship, branding, communication and social media.
The panel members gave their words of wisdom to the new batch, Ashish Soni spoke about the future of fashion in India and how Indian fashion scene is growing, Hemant Sagar showed the international aspects of fashion and  spoke about  the ups and downs of his career, it was all real talk,  but was so inspirational. Sam Baisla talked about entrepreneurial skills and management and how social media has influenced today's generation. Ms. Rachna Verma explained how the economy and luxury fashion works and how India is growing in the luxury sector with brands like LV and Dior opening their stores. It ended with the wise words of our CEO, Mr.Abijit Bose and  Mr. K.K. Bajaj, the Founder Chairman and Chief Mentor of Bajaj Capital Ltd.
Looking back it was a wonderful event where everyone got to learn something and had fun.
–Aakash bharati &  Keerthi telidevara
BBA-FE(2017-20)
Please follow and like us: