We, the students of BBA FE 2019-2022 got a chance to visit the fabric outlet on 2nd August. The main idea of the visit was to plant the basic knowledge of fabrics to us since we have just embarked on our journey into the fashion industry. For students who have just stepped into the world of fashion, acquaintance with different kinds of fabric is very significant.  HP Singh is a multi-story fabric outlet with different departments and a huge amount of fabrics on each floor. Initially, we were taken to the silk section where two employees took us through a huge range of fabrics displayed at the shop. We were made to touch and feel different fabrics and gained a lot of knowledge about fabric blending. We looked at fabrics that were pure and others which were polyester – mixed like cotton lawn, organza, viscose, raw silk, satin, crepe and got to know their texture.  Ms. Bharti Mishra, the teacher-in-charge for the visit had an immense amount of knowledge about fabric and guided us along as we went through varied fabric sections. She also explained to us the uses for different kinds of fabrics shown to us and gave value to little details about the fabric.  She had a splendid knowledge about the prices of different fabrics and was inquisitive about the same. We learned how prices vary with different fabrics due to the material used and the kind of techniques used in the making of the fabric. For instance, Cotton viscose being pure was more expensive as compared to the polyester mixed viscose.
After enough displaying of different fabrics and prints, we were taken to the basement where we met Mr. Bakshi, the owner of the outlet.  He introduced to us a whole different variety of plain cotton fabrics which varied in their thickness because of the differences in the thickness of yarns and also, the warp and weft techniques. He laid in front of us various cotton fabrics like cotton voile, poplin, percale, canvas, jacquard, and many others. We learned about different constructions: weaving and knitting. Weaving is done by warp and weft technique and knitting is the interlocking of yarns. We witnessed knitting in fabrics like Croatia, shantley, nylon, cable knit. He made the knowledge of huge amount of fabrics look easy to us by the way he presented them one after one and did not pull back from clearing our doubts and questions.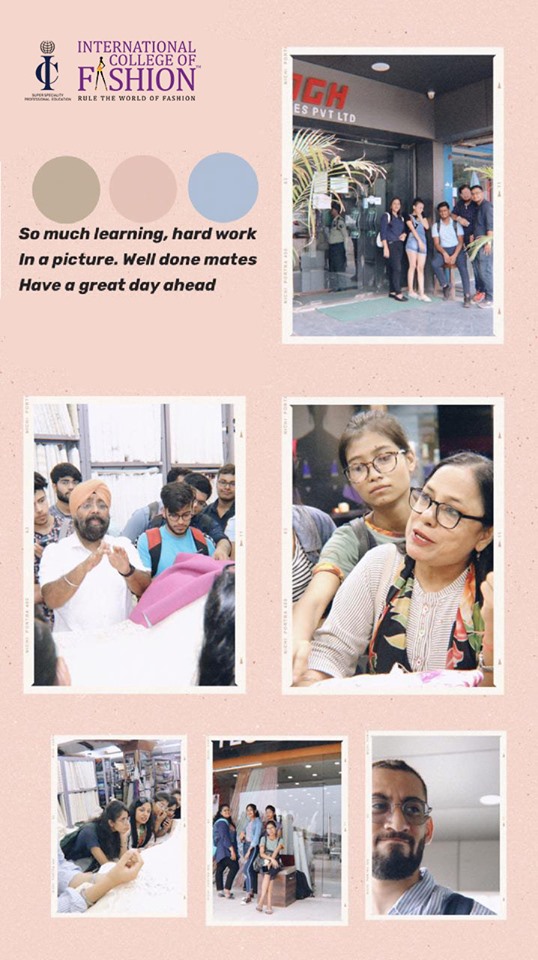 H.P. Singh over the past 40 years has been leading fabric suppliers to a thousand of our customers worldwide.  Located in Nehru Place, they're literally a one-stop-shop for any kind of fabric that you're on the prowl for. They are an acclaimed supplier of various types of man-made fabrics, designer drapery fabrics, designer upholstery fabrics, natural fiber and numerous blends of linen with cotton, viscose, elastic, silk, polyester and other blended fiber. They are known in the market for high quality and are likely to meet all your fabric demands.
In a nutshell, our experience of the visit was an interesting and definitely a successful one. We can never have complete expertise in fabrics in just one go but we are now very familiar with them and know a basic inside story into the world of fabrics.  I really look forward to visiting more such shops and enhance my comprehension of different fabrics.
Tanisha Gupta
BBA FE 2019-2022
Please follow and like us: